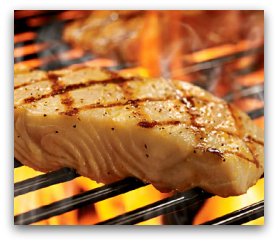 Fish is one of the healthiest meat on the planet and absolutely delicious. There are many ways to prepare fish, but smoking fish on a charcoal smoking grill creates a unique flavor that tantalizes taste buds everywhere. Smoking any fish is possible, but it's the fatty fish that retain the flavor of smoke the best.
What fatty fish are excellent to smoke?
Any fish will smoke on a charcoal grill but fatty fish is ideal for smoking. Salmon and sardines are two excellent fish for smoking. Most people are familiar with smoked salmon for breakfast on a bagel with cream cheese. Tuna and herring are also excellent fatty fish to smoke as well as rainbow trout.
Where to buy fish to smoke?
Buying the freshest fish to smoke on a charcoal grill is important. Where you can get the freshest fish depends, of course, on where you live. If you live on the coast or near clean fresh water that produces clean fish, than you want to find the best Market in town. This is easily done by customer's opinions. Ask around to friends and people who have been in town for years and see where to get the freshest fish. If you don't live in coastal towns or near water than you have two options, you can either order from online or you can buy frozen which will do. You just want to make sure that you but the latest frozen fish, meaning don't but frozen fish that has been sitting in the freezer for a long time. Three days to a week is enough. Of course you will have to defrost.
Best places for Salmon, Trout, Tuna, Herring, and Sardines to come from
Alaska has some of the best salmon in the world for smoking on a charcoal smoking grill. So if your looking to buy salmon, buy the freshest sent salmon you can from Alaska, United States. Farmed rainbow trout also from the Unites States is the best source of trout because unfortunately wild trout has a lot of pollutants in it. The rainbow trout is farmed in fresh water streams and protected. Pacific Sardines are the best to buy that are wild caught, and the best source for tuna is high grade yellow fin. When in doubt, whatever fish you buy you can go to the Monterey Bay Aquarium Seafood Watch for healthy fish information.
Things to know about the best fish to smoke
-fatty fish are the best fish to smoke
-salmon, tuna, trout, sardines, and herring are among the best for smoking
-Alaska and the pacific northwest of the United States is among the places to get your fatty fish
Smoking fish is relatively easy. You just need lemon, salt, water, and a smoker to do so. There are several grills that have separate smokers attached to the main grill which helps for easy smoking. You can also turn a regular small grill into a smoker. Follow the directions of your favorite recipe and eat immediately for the best flavors. Fish is among the healthiest foods to eat and smoking on a charcoal grill is one of the excellent ways to prepare fish for an excellent main course for a lunch or dinner.